Exceptional Wedding Rings in Costa Mesa
A symbol of your love, devotion and future together. Explore our extraordinary collection of wedding bands.
Celebrate with an Exquisite Wedding Band from Nathan Alan Jewelers
Unique Wedding Rings in Orange County, CA
Visit South Coast Plaza's only independent jeweler and choose the perfect wedding rings in Orange County for you and your loved one, all at Nathan Alan Jewelers. With guidance from our dedicated team of experts, we'll help you pair a gorgeous engagement and wedding ring set, and choose a stunning and meaningful wedding ring for women and men. Nathan Alan has something for everyone.
We craft brilliance into every love story with exceptional quality, personalized service, exquisite design, and great value. Discover Orange County's wedding ring destination.
Celebrate with Nathan Alan Jewelers. Call us today at (714) 545-8337.
Schedule an Appointment
---
Couples Connect with our Stunning Wedding Rings for Women and Men
Get inspired with the beauty of our collection of wedding bands below, then visit Nathan Alan in South Plaza, our acclaimed fine jewelry and engagement ring store in Costa Mesa, to turn your vision into a reality!
---
Ready to Buy your Wedding Ring in Southern California?
Count on Nathan Alan's team members to provide guidance and expertise, help try on wedding bands, and guide you toward a confident decision. We'll help answer your important questions about different types of wedding rings for women and men.
Classic ring designs exist worldwide, but at Nathan Alan Jewelers, you'll find an exquisitely tailored, high-quality masterpiece that will forever inspire conversations and compliments.
Schedule an Appointment
---
Classic Wedding Bands
Celebrate timeless love with our exquisite collection of classic wedding rings, where tradition meets elegance. Crafted with utmost precision and unparalleled artistry, each ring embodies the enduring symbol of commitment and devotion.
Our handpicked selection, ranging from sleek and simple bands to intricately custom-designed pieces, ensures that you find the perfect symbol to encapsulate your eternal love story.
SEE MORE:
Classic Wedding Rings
---
Pave' Wedding Bands
Elevate your wedding day with the unparalleled brilliance, glamor and sophistication of our pave' wedding bands. Exquisitely adorned with a delicate scattering of meticulously set diamonds, our pave' collection captures the essence of everlasting romance and luxury.
With unparalleled attention to detail and a commitment to using only the finest materials, our Pave' Wedding Bands are designed to captivate hearts and ignite the spirit of eternal love.
SEE MORE:
Pave' Wedding Bands in Orange County
---
Vintage Wedding Rings
Indulge in the allure of bygone eras with our exquisite collection of vintage wedding rings, each piece a testament to timeless elegance and romance. Imbued with a sense of history and unparalleled craftsmanship, our carefully curated selection and custom designs showcase the intricate beauty and unique character of vintage designs.
From ornately engraved bands to delicate filigree settings, each ring exudes a sense of nostalgia and enduring charm, symbolizing a love that transcends time.
SEE MORE:
Vintage Wedding Rings in Orange County
---
Men's Wedding Bands
Explore our distinguished collection of men's wedding bands, where sophistication meets contemporary elegance. Meticulously crafted to embody strength and style, our diverse range of bands reflects the modern man's discerning taste and individuality.
From sleek and minimalist designs to bold and intricately detailed pieces, each band exudes an aura of understated refinement and a commitment to superior craftsmanship.
SEE MORE:
Men's Wedding Bands in Orange County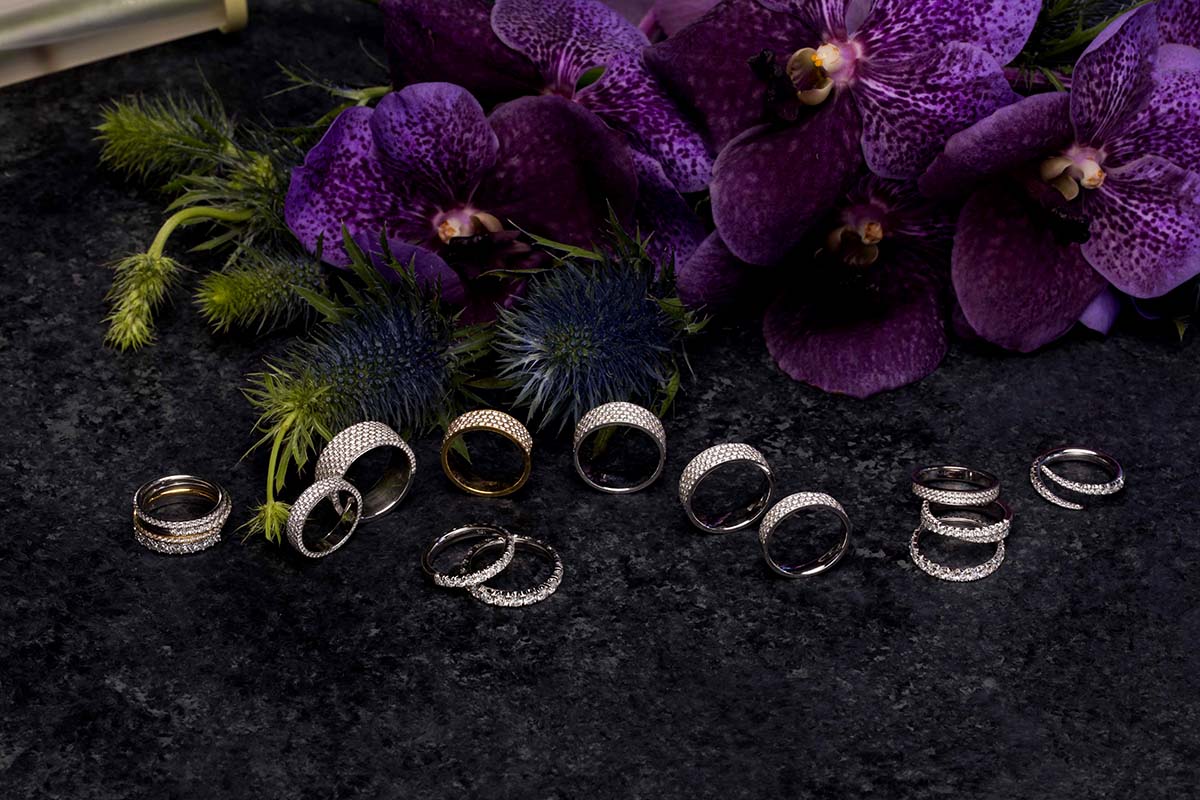 ---
Frequently Asked Questions about Wedding Rings
---
💍 What is a wedding band?
A wedding band, often referred to as a wedding ring, is a symbolic piece of jewelry that signifies the union and commitment between spouses. Typically, it is a ring exchanged between partners during the wedding ceremony, representing an eternal bond and the promise of love and devotion. Wedding bands are traditionally circular in shape, symbolizing an unending and everlasting commitment.
These bands can come in various materials, such as gold, silver, platinum, or titanium, and can be adorned with diamonds, gemstones, or intricate designs depending on personal preferences and cultural customs. They are designed to be worn every day as a tangible reminder of the vows and promises made during the wedding ceremony, serving as a constant symbol of love and unity in a marriage.
---
💍 Which finger does a wedding ring go on?
Traditionally, in many Western cultures, including the United States, the wedding ring is worn on the ring finger of the left hand. This custom stems from the belief that the vein in the ring finger, often referred to as the "vena amoris" or the "vein of love," is directly connected to the heart. Some cultures place the wedding ring on the right hand instead, and modern practices also allow for personal preferences, with some individuals choosing to wear their wedding ring on a different finger.
---
💍 How much money should you spend on a wedding ring?
When it comes to determining how much to spend on a wedding ring, there isn't a set rule or specific amount that applies universally. The budget for a wedding ring is often influenced by various factors, including personal financial circumstances, individual preferences, and cultural norms. Ultimately, the most important aspect is to choose a ring that holds sentimental value and represents the love and commitment shared between the couple. At Nathan Alan, we can provide guidance and present a range of options to accommodate different preferences and budgets.
---
💍 What to engrave on a wedding band?
When considering what to engrave on a wedding band, many couples choose to inscribe a meaningful and personal message that holds significance to their relationship.
Some popular engraving options include:
Initials or Names: Engraving the initials or full names of both partners adds a timeless and classic touch.


Special Dates: Many couples opt to engrave their wedding date as a cherished reminder of their special day.


Meaningful Quotes: Selecting a meaningful quote from a favorite book, poem, or song that holds significance to the relationship can add a sentimental touch.


Personal Vows: Engraving a snippet of the personal vows exchanged during the wedding ceremony can serve as a heartfelt and intimate reminder of the promises made.


Coordinates: Engraving the coordinates of a significant location, such as where the couple first met or got engaged, can hold sentimental value.


Symbols or Icons: Incorporating a small symbol or icon that is meaningful to the couple, such as a heart, infinity symbol, or religious symbol, can add a unique and personal touch.
---
💍 How to wear an engagement ring and wedding band?
When it comes to wearing an engagement ring and a wedding band, there are a few common practices to consider:
On the same finger: Many individuals choose to wear both the engagement ring and the wedding band on the same finger, with the wedding band typically placed closer to the heart, i.e., the base of the finger, and the engagement ring on top of it.


Separately on the same hand: Some individuals may opt to wear the wedding band and the engagement ring on separate fingers of the same hand.


On different hands: In certain cultures or personal preferences, the engagement ring and the wedding band may be worn on different hands, with the wedding band often placed on the ring finger of the left hand, and the engagement ring on the same finger of the right hand.
Ultimately, there is no strict rule on how to wear both rings, and the decision often depends on personal preference and cultural customs.
---
💍 Who buys the wedding bands?
Traditionally, the responsibility of purchasing the wedding bands falls to both individuals in the couple. However, in modern times, this practice has evolved, and the approach to buying wedding bands has become more flexible and personalized.
Some common scenarios include:
Joint Purchase: Many couples prefer to select and purchase their wedding bands together, ensuring that both partners have a say in the design and style of the rings.


One Partner's Purchase: In some cases, one partner may take the lead in purchasing both the engagement ring and the wedding bands as a surprise or a gesture of commitment.


Family Involvement: Occasionally, family members might contribute to the purchase of the wedding bands, particularly in instances where there are traditional or cultural customs involved.


---
More Helpful Engagement Ring Resources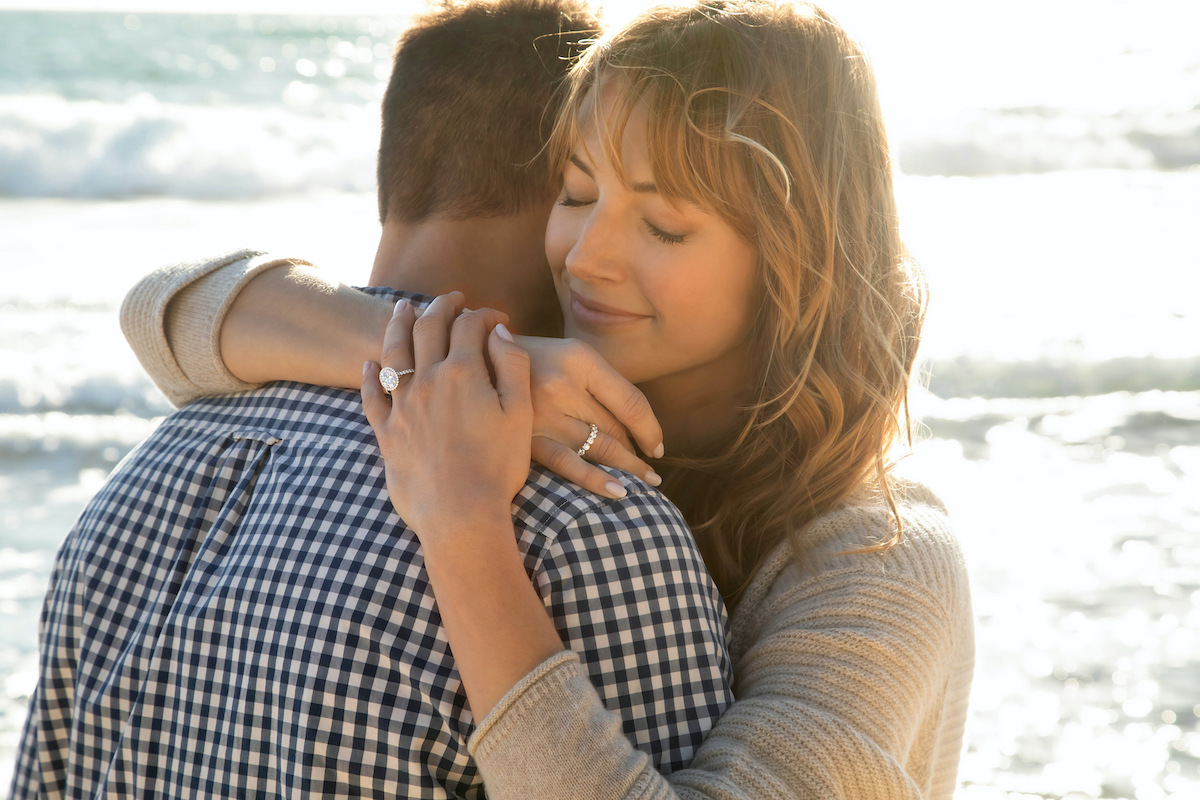 ---
Costa Mesa Wedding Rings: Plan Your Visit with Nathan Alan
Nathan Alan Jewelers has served the community of Southern California for over 43 years. We are family owned and the only independent jeweler in Orange County's famous South Coast Plaza. Visit us today or call (714)545-8337 to reach our experienced team.
Schedule an Appointment
---