Halo Engagement Rings
in Costa Mesa, CA
Stylish and timeless creating a sparkle and shine.
Explore our exquisite Halo Ring collection.
Celebrate with a Halo Engagement Ring from Nathan Alan
Our Very Best Halo Diamond Rings
Express your love with our luxurious line of halo engagement rings in Orange County, CA. Featuring hidden halo rings, oval halo engagement rings, popular cushion cut halo engagement rings and much more, Nathan Alan has something for everyone.
Visit South Coast Plaza's only independent jeweler and discover how we craft brilliance into every love story with exceptional quality, personalized service, exquisite design & great value. Find the very best halo and hidden halo engagement rings in Costa Mesa.
Celebrate with Nathan Alan Jewelers. Call us at (714) 545-8337.
Schedule an Appointment
---
The Most Exquisite Varieties in Halo Rings
Get inspired with our stunning variety of custom halo engagement rings below, then visit Nathan Alan, our acclaimed jewelry and engagement ring store in Costa Mesa, to turn your vision into a reality!
---
Ready to Buy a Hidden Halo Engagement Ring in Orange County?
Count on Nathan Alan's team members to provide guidance and expertise, help try on rings, and inform you to make a decision with confidence. We'll help answer your important questions about halo diamond rings and additional options.
Classic designs exist worldwide, but at Nathan Alan Jewelers, you'll find an exquisitely tailored, high-quality masterpiece that will forever inspire conversations and compliments.
Schedule an Appointment
---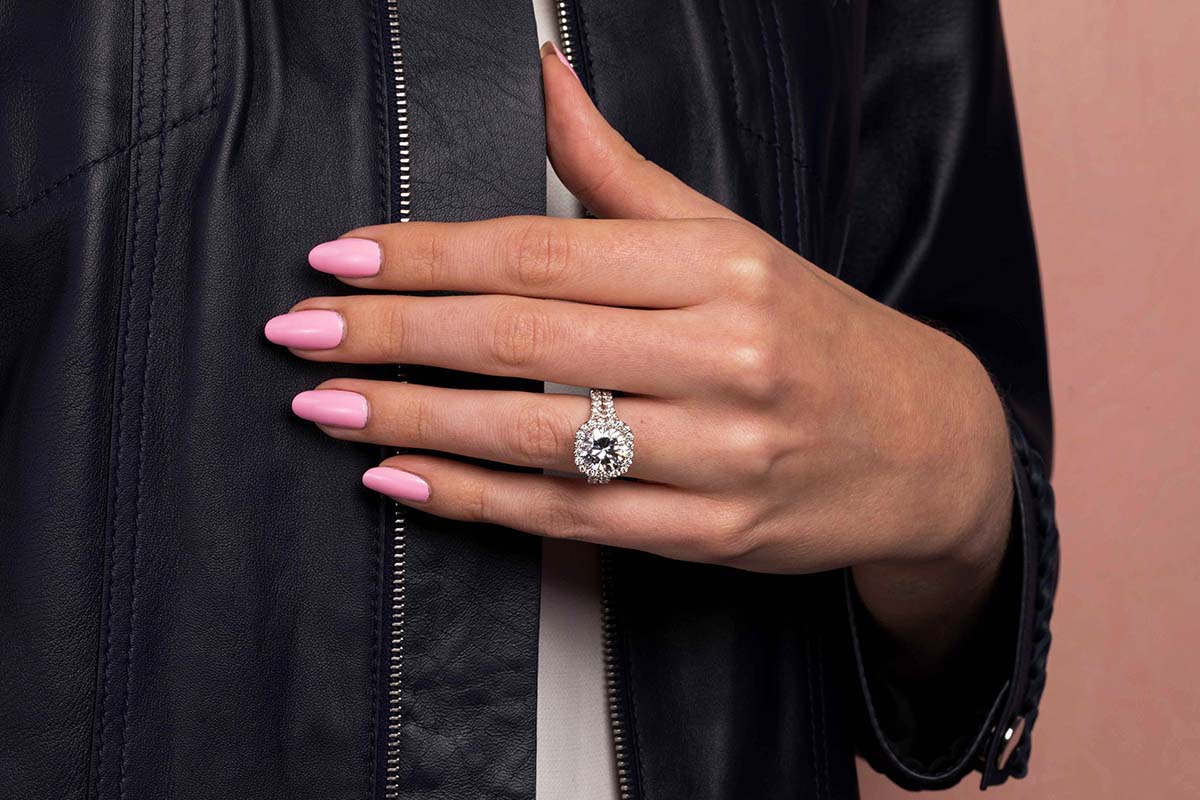 ---
Frequently Asked Questions about Halo Engagement Rings
---
💍 What Is a Halo Ring?
The halo diamond engagement ring features a center diamond, or other gemstone, completely encircled by smaller diamonds, usually micro pave' set, creating a beautiful look of sparkle and shine. Halo diamond engagement rings are specifically designed to highlight and enhance the size and brilliance of the center stone.
---
💍 What is a Hidden Halo Ring?
A Hidden Halo Ring is a dazzling and innovative take on the classic halo design. The hidden halo engagement ring features a thin band of small pave' set round accent diamonds or gemstones on the underbezel, beneath the centerstone.
The "hidden" element means the halo cannot be seen looking straight down on the center stone, but can be viewed from a variety of other angles.
This unique and sophisticated design appeals to those who appreciate a touch of mystery in their jewelry and may wish for a gorgeous variation on the traditional halo surrounding the center stone.
---
💍 What are the most popular halo ring settings?
Some of the most commonly requested halo settings include:
hidden halo engagement ring
oval halo engagement rings
cushion cut halo engagement rings
round halo engagement rings
double halo engagement rings
emerald cut halo engagement rings
princess cut halo engagement rings
pear halo engagement rings
Many additional settings delight our customers. Visit Nathan Alan or give us a call at (714)545-8337 to get your halo ring questions answered.
---
💍 Why Is a Halo Ring So Popular?
The halo ring has become a popular engagement and wedding ring choice due to its timeless elegance. The center stone surrounded by small pave' set diamonds or gemstones creates a stunning halo effect. This design emphasizes the main diamond while also adding extra sparkle and brilliance.
---
💍 Why Do People Like Hidden Halos?
Crafted with meticulous precision, the hidden halo engagement ring offers a captivating surprise that only reveals itself upon closer inspection. To many, hidden halos signify mystery and intrigue, which can be an attractive quality in many different contexts.
Hidden halos also remind people of the spiritual power of angels or other divine beings, which for some is a source of comfort and inner peace. Wearing a hidden halo to others may symbolize good luck and protection from harm.
---
More Helpful Engagement Ring Resources
Lab Diamond Engagement Rings: Lab Diamonds are real diamonds and should be certified by the Gemological Institute of America (GIA). Many benefits exist, including reduced costs.

Engagement Ring Settings: Everything you need to know about selecting the perfect setting for your engagement ring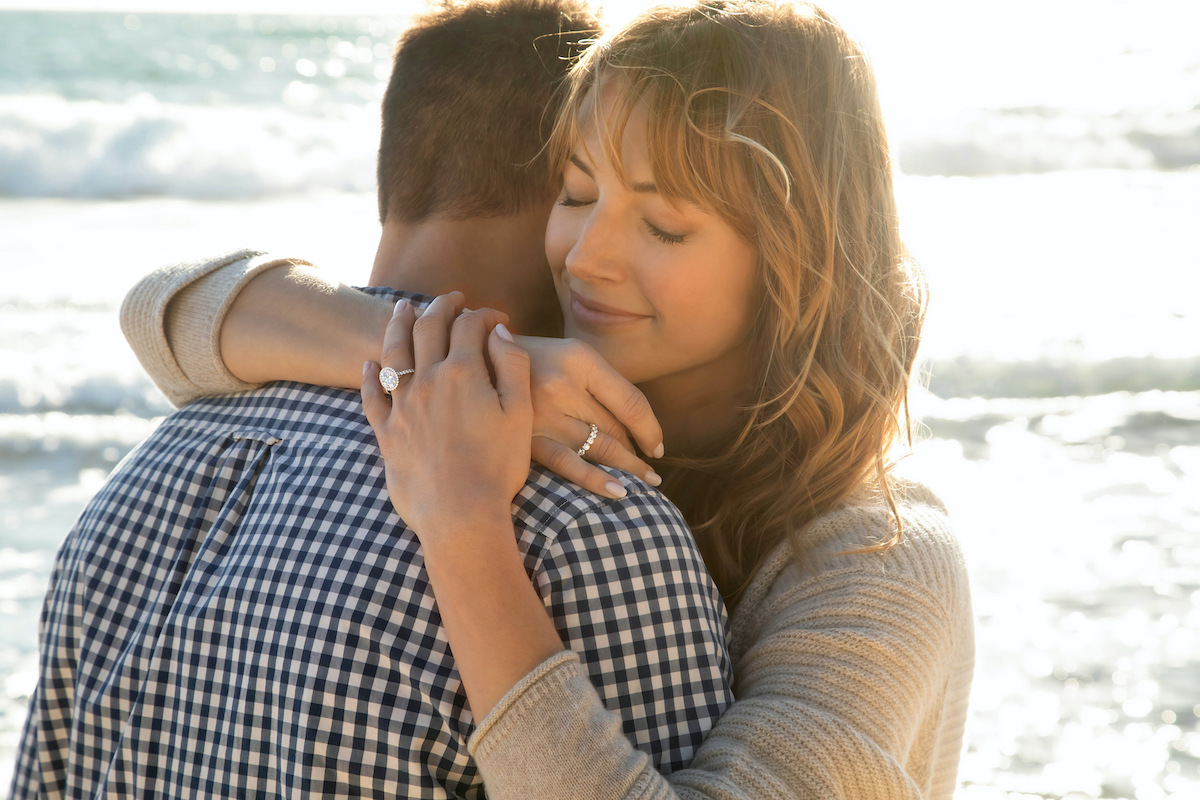 ---
Plan Your Halo Engagement Ring Visit with Nathan Alan
Nathan Alan Jewelers has served the community of Southern California for over 43 years. We are the only independent jeweler in Orange County's famous South Coast Plaza. Visit us today or call (714)545-8337 to reach our experienced team.
Schedule an Appointment
---