Where do I start?
You've decided to get engaged. But once you arrive at the jewelry store, it seems that deciding to spend your life with someone is an easier decision than choosing the ring. First to know, these are the five most popular engagement ring categories.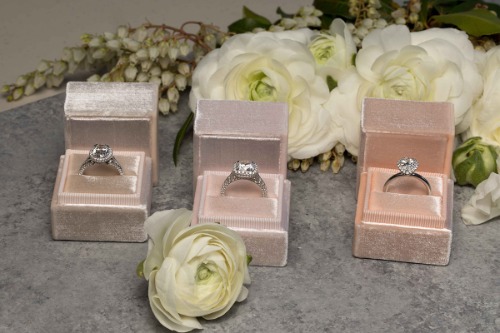 Halo
Plain Solitaire
Side Stone Solitaire
Three Stone
Vintage
Beautiful artistry. Graceful design. Several smaller stones surround a single stone to create the memorable "halo" effect, while framing the shape and glamour of the center stone. This creates the overall effect of a larger center stone. The halo functions to hold the center stone securely in place, delicately providing protection for the stone.
Iconic. The most classic. Simple elegance. A single diamond or gemstone showcased above the band set on the metal of your choosing with no accents. The focus is center stage on the stone you choose for her. A solitaire is sometimes referred to as a classic solitaire, Tiffany solitaire, four or six prong solitaire, or a single stone solitaire.
Exquisite Accents. Side stones are set into the metal accenting the main diamond or other gemstone. Smaller diamonds add beauty and sparkle to the ring. Generally the side stones are pave' set, channel set, or shared prong set. Side stones provide contrast and added sparkle to complement the center stone and enhance the overall beauty of the ring.
Enduring and Sophisticated. The center diamond or gemstone is accented by one stone on each of its sides. The center stone is usually larger than the two side stones. All three stones can be the same shape or the two sides can be different shapes from the center. A Three Stone Ring elegantly portrays the symbolism of past, present, and future.
Delicate Details. A Vintage Ring can be created in variations of the other styles when accompanied with milgrain beading, decorative engraving, beautiful scroll work or filigree detailing. Vintage designed rings are often referred to as art deco, antique, or estate styles. A custom vintage styled ring in the hands of a highly skilled designer can be exceptionally crafted today.