Orange County's Best Engagement Rings
Express yourself and fall in love with our luxurious line of stunning engagement rings. Browse our cherished collection below.
Celebrate with Nathan Alan Jewelers.
Celebrate with a Nathan Alan Engagement Ring
Unique Engagement Rings in Costa Mesa
Visit South Coast Plaza's only independent jeweler and choose the perfect diamond engagement ring in Orange County with the guidance of our dedicated team of experts. From classic solitaires to custom engagement rings, to modern designs featuring stunning gemstone accents, Nathan Alan has something for everyone.
We craft brilliance into every love story with exceptional quality, personalized service, exquisite design, and great value. Discover Orange County's top engagement rings.
Celebrate with Nathan Alan Jewelers. Call us today at (714) 545-8337
Schedule an Appointment
---
The Most Exquisite Varieties in Engagement Rings
Get inspired with the beauty of our collection of engagement rings below, then visit Nathan Alan in South Plaza, our acclaimed jewelry and engagement ring store in Costa Mesa, to turn your vision into a reality!
---
Ready to Buy an Engagement Ring in OC? Here's Our Process
Count on Nathan Alan's best engagement ring store team members to provide guidance and expertise, help try on rings, answer questions and inform you to make a decision with confidence.
1. Select your Stone
Diamond, sapphire, or other gemstone? You'll need to determine the weight of your center stone as well, measured in carats. Perhaps a special diamond or gem color? Considering a natural or lab-created diamond? Both are certified by Gemological Institute of America (GIA).
"We're considering a 2-carat engagement ring, and lab diamonds are an option we'd like to look at."
2. Select the Shape of the Stone
Round, cushion, oval, pear, radiant, emerald, etc. Many varieties exist for the shape or "cut" of the diamond or gemstone.
"My dream ring has a cushion-cut diamond."
3. Determine your ideal budget
You can make this decision with the confidence of knowing we'll work within your realistic budget to create the ring of your dreams.
"We'd love to create a stunning ring with a budget of $."
4. Select the Ring Design
Halo, side-stone solitaire, hidden halo ring, three-stone design or similar? Inspired by a celebrity engagement ring? We'll help you find your perfect match.
"I'd love a very classic design. I really like the look of model Rosie Huntington-Whiteley's large center stone ring surrounded by pavé set diamonds. Here's a photo of it."
5. Select your Ring's Metal
We offer 18K white, yellow and rose gold along with platinum, a pure white metal. Would you like to adorn the band with pavé set diamonds?
"We're considering either an 18K rose gold or platinum band, lined with pavé set diamonds."
6. Determine Accurate Ring Size
It's always safest to get your fiance's ring finger size measured and verified in person by the jeweler you intend to purchase the engagement ring from. A friend or relative may be helpful to get this info if you're keeping this process a surprise.
"Looks like a size 6 ring will be the perfect fit."
7. Place Engagement Ring Order
- Our accomplished craftsmen at Nathan Alan will create your perfect ring and can easily customize nearly every style.
"She's going to absolutely love this stunning ring, crafted by the one and only Nathan Alan Jewelers."
8. Pick up your Ring and Pop the Big Question
We'll work with you to set a comfortable timeline to complete your engagement ring and get you ready for the big moment.
"I got down on one knee, pulled out that special ring, asked her to marry me, and she said Yes!"
Classic designs exist worldwide, but with Nathan Alan Jewelers, you'll get an exquisitely tailored, high-quality masterpiece that will forever inspire conversations and compliments.
Schedule an Appointment
---
Engagement Ring Styles
Get to know some of our most popular varieties below.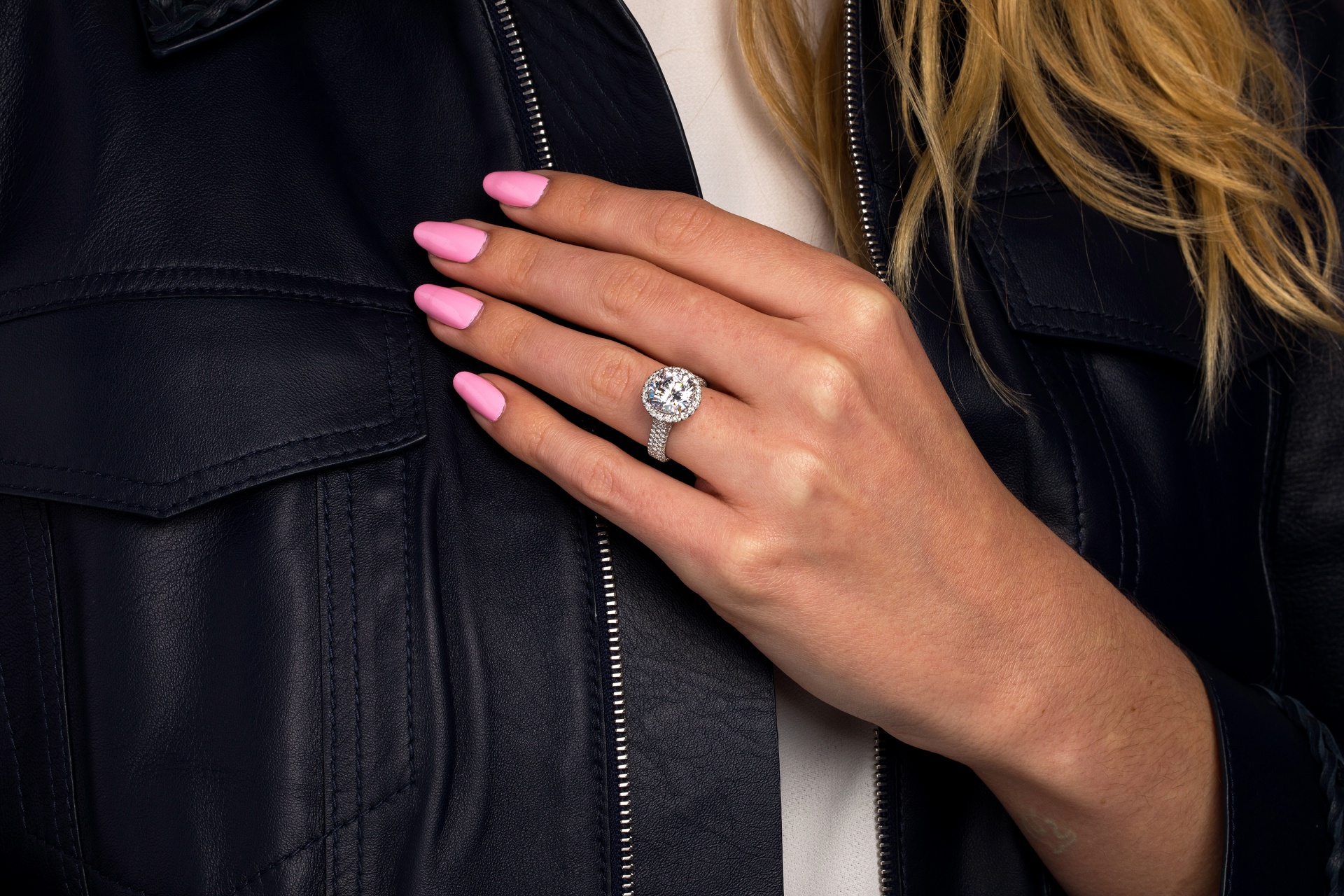 ---
Frequently Asked Questions about Engagement Rings
---
💍 How Much Should an Engagement Ring Cost?
Forget everything you've heard about setting a specific budget for an engagement ring. There is no universal standard when it comes to this decision. It's important for each person to evaluate their own financial capacity and determine the maximum amount they're comfortable spending. There are no rigid rules to follow. Instead, approach the cost of the ring with an open mind and educate yourself on how quality can impact the price.
Once you've found a reliable and knowledgeable jeweler who can offer you a wide range of diamond options, it's time to share your maximum budget with them. By doing so, you allow them to assist you in making the best possible choice for your significant other. At Nathan Alan, we will guide you through the selection process and help you find a ring that balances quality and affordability within your specified budget.
---
💍 Where to Buy an Engagement Ring?
The best place to buy an engagement ring is through a reputable jeweler who can demonstrate vast experience, knowledge, selection, and exceptional craftsmanship. Work with a jeweler who can provide you with the essential certifications and appraisals for all natural and lab-created diamonds or gemstones.
A quality and trustworthy jeweler will confidently guide you and help you make the best selection for you and your fiancé. Contact us to get your questions answered and book your appointment.
---
💍 Should I Consider a Lab-Created Diamond Engagement Ring?
In today's world, an amazing new option now exists: buying a high-quality lab diamond certified by the Gemological Institute of America (GIA) at a significantly reduced price. This makes it possible to purchase a larger diamond than originally anticipated, without compromising on quality.
However, it is crucial to recognize that only a select few highly skilled and experienced custom jewelers possess the expertise to deliver both a larger, high-quality lab diamond and the exceptional craftsmanship required to create your dream engagement ring. By collaborating with these reputable artisans, you not only have the opportunity to witness the superior quality of their engagement rings firsthand but also to work together in bringing your vision to life.
Their proficiency in blending the brilliance of lab-grown diamonds with unparalleled artistry ensures that your dream engagement ring becomes an exquisite reality, encapsulating the essence of your love story and becoming an everlasting symbol of your commitment.
---
💍 How Do Size and Quality Affect my Engagement Ring Purchase?
When considering the advantages of purchasing a fine-quality engagement ring over compromising for a larger size, it is important to remember that beauty is not solely defined by size. While it may be true that a bigger ring can catch the eye, it is equally true that an oversized or poorly crafted ring can appear unattractive and lack the elegance and charm of a finely made piece.
In contrast, a ring of exquisite quality, regardless of its size, possesses a timeless allure that cannot be ignored. Its flawless craftsmanship and remarkable attention to detail make it a standout symbol of your love and devotion. Therefore, it is crucial to prioritize quality over size to ensure that your engagement ring always radiates beauty and grace, leaving a lasting impression on all who behold it.
---
More Helpful Engagement Ring Resources
Lab Diamond Engagement Rings: Lab Diamonds are real diamonds and should be certified by the Gemological Institute of America (GIA). Many benefits exist, including reduced costs.

Engagement Ring Settings: Everything you need to know about selecting the perfect setting for your engagement ring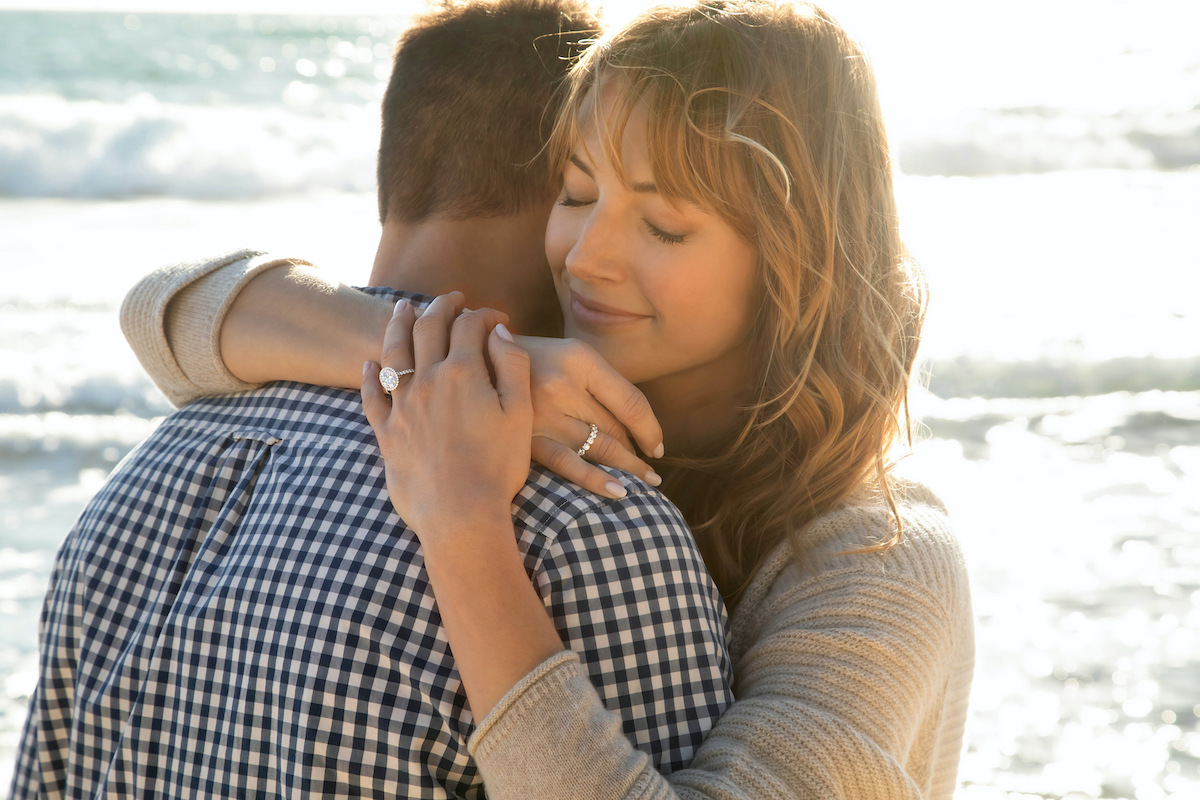 ---
Costa Mesa Diamond Engagement Rings: Plan Your Visit
Nathan Alan Jewelers has served the community of Southern California for over 40 years. We are the only independent, family-owned jeweler in Orange County's famous South Coast Plaza. Visit us today or call (714) 545-8337 to reach our experienced team.
Schedule an Appointment
---